Careers of International Studies Alumni:
The International Studies major prepares students with the relevant knowledge, analytical skills, and experience necessary for navigating our increasingly globalized world. Our alumni has gained valuable expertise in the politics, economics and cultures of the world through foundational courses. International Studies Program has a track record of placing majors in a wide range of exciting careers and graduate programs. International Studies majors and alumni are working to shape the future of international affairs locally and globally. Meet our Alumni:
SASHA SABHERWAL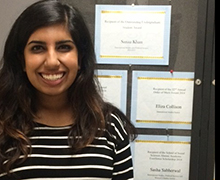 Sasha Sabherwal began her career at UC Irvine her freshman year of college as a declared International Studies major. During her first year as a student, Sabherwal was also hired as a student assistant for the department. "I've been really involved with International Studies for a long time," she said.
Sabherwal originally wanted to study law, but instead, during her undergraduate studies, she added two additional majors: Gender & Sexuality Studies (previously Women's Studies) and Political Science.
She credits the interdisciplinary nature of IS program for allowing her to take classes outside of the program. "My interests are very relevant to IS, but also not necessarily methodologically aligned in social sciences," says Sabherwal.
She is similarly grateful for her experiences working for the department because she got to meet "a lot of interesting, brilliant people," including the diverse group of speakers for the International Studies Public Forum (ISPF).
Sabherwal graduated from UC Irvine in Spring 2014, and worked for an academic enrichment program in social sciences over the summer.
She started working at UCI full-time in August. Her first job was for the dean's office in social science. Currently, she works at the Social Science Academic Resource Center (ARC), but will be leaving in the fall to begin a doctoral program in American Studies Program at Yale.
Although she is pursuing a degree in American Studies, she says that her background in International Studies helped her begin to understand the transnational aspects of American Studies. "International Studies did provide a context for me to explore the transnational, which I understand differently than the international," Sabherwal says.
While she spends most of her day talking and giving advice to individual undergraduate students, she also had some general advice: "There are so many amazing things you can do here. I feel like most people get by just by taking classes, which is really unfortunate because you pay so much money to come. You can't even take advantage of it all in four years."
As a triple major, Sabherwal also know the value of doing research at an undergraduate level."Do research! It will help you in whatever you end up doing. Even if you're not going to law school or grad school, the skills you get from doing research project are transferable in so many ways."
KATE AZAR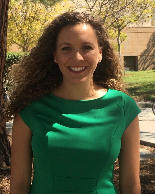 Kate Azar (Katherine Keith Azar) is an International Studies alumna who graduated from UCI in 2008. After completing her undergraduate studies, Azar went on to earn a master's in Public Diplomacy from USC in 2010. After earning her Master's she served as a Press, Policy and Public Affairs Officer for the British Consulate-General in Los Angeles. She says she learned a lot on the job, particularly when she was the coordinator for Prince William and Kate Middleton's first trip to the U.S. "It was an amazing experience to learn top to bottom every element of planning a royal visit," said Azar.
Unable to rise in the ranks any further at the Consulate, she began working for a communications and campaign strategy consulting firm leading accounts with clients such as Maria Shriver, Norman Lear, and The California Endowment. Although she enjoyed her job, Azar explained, "Within two years I was burnt out by the long hours and an hour plus commute to Los Angeles. So I just decided that it was time for something new. I didn't know what was next, but I had to try something different."
So in September, she left the consulting firm to start her own business. Social Good Strategies, LLC is a philanthropy consulting firm that works with individuals, nonprofits, foundations and companies who want to make a positive impact in the world. Azar, who found through her previous work that she is especially good at connecting people and resources, hopes to continue to make a positive impact in the world through her new venture.
Azar says she really valued her time at UCI:
"Because I transferred to UCI from community college, I felt the need to immerse myself into my education and the UCI campus from the beginning. The professors and students at UCI made a huge difference in my life. When I was in high school and community college, I wasn't really academically focused at all. But a few great professors took interest in me for the first time in my life. Professor Schlosser showed me around campus and encouraged me to apply and Professor Paula Garb took a chance on me and gave me an internship in her nonprofit, The Center for Citizen Peacebuilding. This was the start of my career in philanthropy."
Azar co-founded the Olive Tree Initiative while she was an IS undergraduate and now counts the organization as a client, helping plan their annual gala in May.
MARYAM ROKHIDEH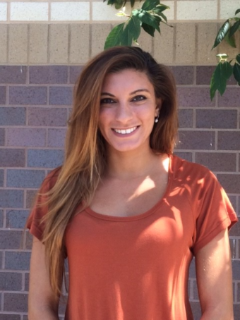 Maryam Rokhideh is an International Studies alum who graduated in 2010. During her time at UCI, she took advantage of as many opportunities as she could, including completing a mediator certificate, which involved acting as a mediator in the Orange County Court System.
Always interested in conflict resolution, after receiving her mediation certificate, Rokideh was a TA for Paula Garb's undergraduate seminar in conflict resolution. However, Rokhideh also had other intellectual interests, and really appreciated that her major in IS allowed her to take classes outside her major.
During her junior year at UCI, she studied abroad in Cameroon, an experience she says solidified her interest in the continentShe applied for and received funds from the UROP and did a research project on how Cameroon has able to ward off conflict despite having the same sociopolitical precursors to conflict as its neighbors. Rokhideh says that's when she first got introduced to surveying, key informant interviews, and informal interviews. Rokhideh also completed a SURP and senior honors thesis with Dr. Cecelia Lynch. She says she knew she wanted to pursue a PhD as early as her senior year, but wasn't sure what she wanted to study so she decided to complete a Master's in Conflict Resolution at the University of Bradford in England.
During her master's program, Rokhideh worked for the Africa Center, applied for their field study in Rwanda where she completed a research project on state reconstruction and reconciliation post-genocide. After finishing her master's she returned to the U.S. shortly before landing an internship in Uganda with International Alert, a peacebuilding organization with field offices throughout Middle East and Africa. There, she was an intern for a few months before being promoted to consultant. During her tenure with International Alert, Rokhideh was able to put her mediation skills into practice by leading mediation training for Ugandan business professionals.
After Uganda, Rokhideh returned to the U.S. and got a job working in the women peacemaker program with the Kroc Institute in San Diego, where she had interned during summer after graduating from UCI. Then, because she always wanted to learn Spanish, she pursued an opportunity to work with at-risk youth in Pareda, Colombia. While there, she stayed with a host family that spoke Spanish exclusively. While she was offered a job as project manager to stay on in Colombia, but knowing that she wanted to enter a doctorate program and that her passion is to work on issues in Eastern Congo, she began applying for PhD programs. Rokhideh was accepted to several universities, but chose to go to Notre Dame for their dual doctoral program in Peace Studies and Anthropology, which she will begin this fall 2015.
Rokhideh says, "The skills I learned here within my major and the wealth of opportunities I received really helped me figure out what I wanted to do. I feel like a lot of International Studies students don't know, 'Well, what can I do with my major?' but wherever your path takes you, the skills you have learned from within your major really help you."
She recommends study abroad to all students, and advises against letting concerns about cost hold them back. Rokhideh also implores current IS students to take advantage of research opportunities.
"Not a lot of students get to do social science research at the undergraduate level. Even if that's not what you want to do, you will gain invaluable skills," she said.
ROMA PARHAD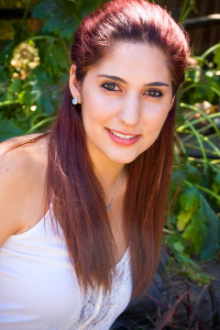 Roma Parhad graduated from UCI in 2011 with bachelors' degrees in International Studies and Political Science. A Northern California native, Roma moved back to Silicon Valley after graduation and spent the next two years expanding her skill-set through several internships, extra classes, and training programs. She interned for Congressman Michael M. Honda, took journalism classes and did some freelance reporting for several local outlets including Silicon Valley Community Newspapers. She also received a broadcasting certificate after training with KZSU Stanford University radio.
In fall 2013, Roma began a masters program in International Relations at New York University, focusing on international security, U.S. foreign policy, and the Middle East. While at NYU, she interned at the Council on Foreign Relations and The Carnegie Council's journal Ethics and International Affairs.
After graduation, Roma says she plans on moving home to California and hopes to put her skills to work at an NGO, think tank, or in the media world.
"My time at UCI really shaped my vision of where I wanted to go and provided so many opportunities for me to learn and try new things," Roma said. She discussed how classes she took in the International studies department gave her the breadth and depth of knowledge she needed to be prepared for graduate school. Additionally, the opportunities she had outside of the classroom were an essential part of building her portfolio and gaining skills that would help her in the future. Roma conducted independent research with Professor Cecelia Lynch, studied abroad in the UK, spent a summer interning in Washington D.C. through the UCDC internship program, and got involved in UCI programs like Global Connect.
Roma added: "To any undergrads or incoming students: I really hope you'll take advantage of every opportunity UCI has to offer you! There is so much you can get involved with and some of that even involves leaving UCI for a while to study abroad. Keep an eye out for anything that you can get involved with or help out with. Really try to get the most out of your four years, it'll go by so quickly and its the best platform for building your resume and skills."